It's Saturday and time for some giveaway news! The SITStahood is giving away something precious on their site. Go check it out! They are also expanding their super cyber space by adding a Saucy Chefs blog that could feature YOUR recipe. Go on now, head over there and see what's cooking.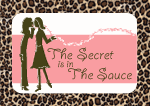 Another friend in blogland, is giving this away:
Go on over and visit, Joanne, and see about winning that bounty of french, pink goodness! Her winner will be chosen July 4th!
http://cottageinthemaking.blogspot.com/2008/06/ooh-la-la-french-giveaway.html
And one more for the road, John Deere Mom is giving away some purses over here:
http://johndeeremom.blogspot.com/2008/06/200th-post-and-giveaway.html